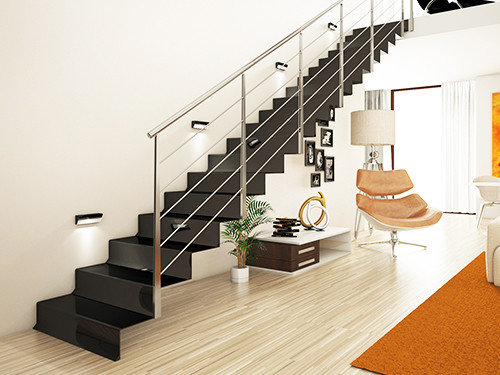 Suspended stairs
The steps of the suspended staircase have no bearing structure but are attached directly to the wall, providing the viewer a feeling of floating in space like weightless.
Upscale and very design, suspended staircases are certainly the most likely of all contemporary models. Although very light and airy, it requires a high technical level and an excellent knowledge of supports. The network L'Echelle Européenne rigorously keeps its product range and has only selected the best manufacturers. If the walls construction (preferably solid), is an important aspect to ensure durability, fasteners should ensure a strong bond with the supporting wall, while maintaining an attractive and unobtrusive appearance. The control of these parameters then authorises the use of noble materials such as glass, resin or stainless steel as well as wood. Often wanted without hand rails, safety can be assured with glass or smooth stainless steel wire which will lightly highlight the elevation. A reminder in the continuity effectively protects your stairwell, split level room or balcony perfectly harmonised with the rest of the house.
Our consultants and installers, constantly changing with the products and installation techniques, remain indispensable for the successful completion of the entire project. The whole team working together is essential for you to fully enjoy your modern or even futuristic staircase.....