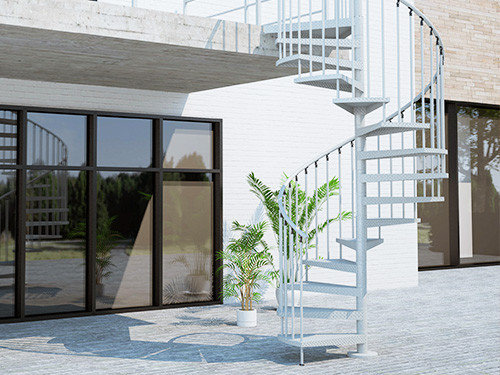 Spiral outdoor stairs
The exterior staircase was often made of concrete for the sake of resistance to the weather. For several decades, modern building techniques oriented towards the insulation of the houses, the lightening of the forms and to the increase of the openings allow to save energy. It was essential to reduce the grip on the ground and the projected shadow. Steel, aluminum and sometimes wood have come to replace the concrete while guaranteeing a good longevity.
The exterior staircases have evolved in their dimensions : smaller ones are serving more and more terraces, balconies or private solariums and are invited in your courtyards, paths and gardens. Clients are more demanding in terms of design. Materials such as galvanized steel, stainless steel (A4 or 316) or lacquered aluminum are recommended by our experts to avoid maintenance stresses (especially rust). The techniques used to install the guardrails must be strictly monitored and controlled in order to avoid moisture infiltration. Our specialized consultants will offer you the most suitable products for your environment and ensure that the fixing systems are suitable for the supports.
The European Scale production center has already met many challenges, from the simplest to the complex ones, to meet the constraints of delicate access. Our design department realizes, with aluminum, staircases for individuals but also for industrial or agricultural buildings, accesses to machines, vats, terraces ...
Staircase CAMELIA ZINC
Spiral steel staircase to equip the exterior of a house.Functional and solid, the Camelia staircase offers an excellent compromise between aesthetics and practicality.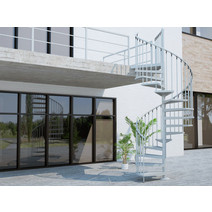 Staircase MUGHETTO ZINC
Allowing access to the terrace or garden, the Mughetto staircase is ideal for your exterior.Combining resistance and design, this galvanized steel staircase will be solid against bad weather.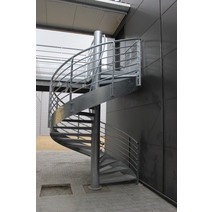 Horizontal exterior staircase