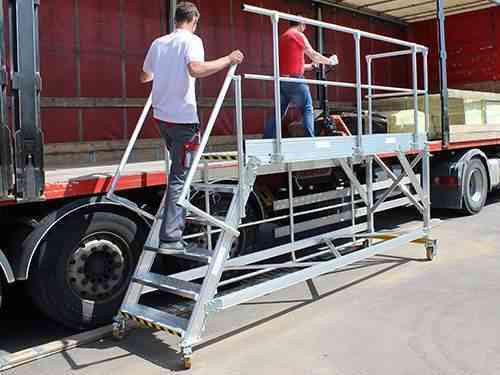 Bespoke fabrication for logistic
Walkways for bus maintenance, telescopic work platforms, special steps for streetcar cleaning, rolling platforms for trailer tarpaulins, etc. we meet all the requirements for working at height.  Echelle Canada manufactures many types of equipment for the maintenance at height of vehicles for haulers, public and private transport companies at its production center.  Buses, streetcars, light vehicles, semi-trailers, flatbed trucks, aircraft, etc. whatever the type of vehicle, we make the custom equipment that will fit your constraints.  The people and goods transport sector has its special requirements, our sales teams will know how to follow your specifications and offer you solutions that comply with manufacturing standards and regulations for working at height.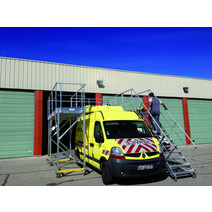 Rolling platform for trucks maintenance
LEEVELGRIP planking platform for highway truck maintenance.Guardrails in round tubes.3-part mobile U-shaped platform with magnets.Separate use possible.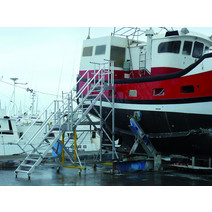 Platform for boat maintenance
Use of materials compatible with the climatic constraints related to the dirty environment.Irregularity of ground levels.Access on trawlers of different heights.
Rolling platform for unloading truck trays
Platform with the length of a truck tray allowing users to work safely for unloading their merchandise.