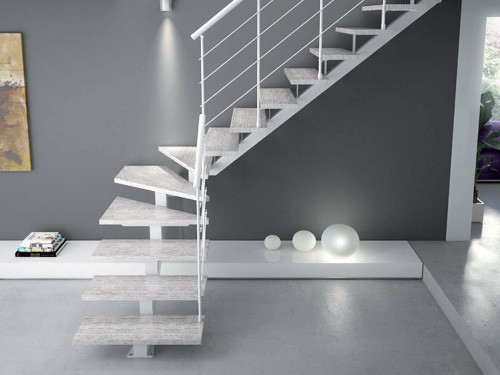 Straight and ¼ turn stairs
Recent years have seen a significant evolution of the home style. The walls have fallen, the rooms have opened up, to give more light. Living space is more airy and more sober and people tend to replace the old bulky furniture. Beyond its practical aspect, stairs have taken on an attractive importance. L'Echelle Européenne has contributed to the revival of the stairs and our "Straight and ¼ turn" line fits perfectly with this upheaval, both in new construction and in renovation.
With a well-designed stairwell footprint, these staircases offer an important ease of passage. Supporting structures have changed: central beam, modular beam, etc. Concrete is replaced by wood, stainless steel and even glass. All this saves in volume, lightness and transparency, which also allows so much more light.
Choose your design staircase among a complete range of various styles and designs, to enlighten your home: contemporary, modern or traditional. Ask our experts to help you to evaluate the technical details provided for the stairs in your house and help you choose the model best suited to your needs and your dreams.