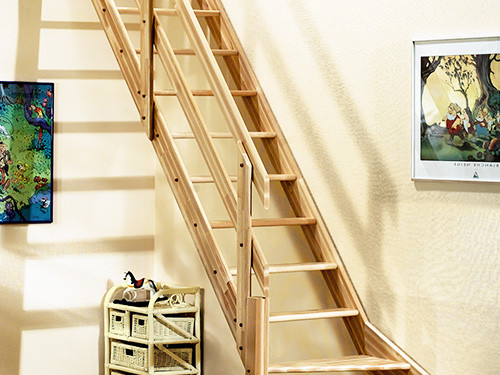 Space saving stairs
Roof & attic conversions, installing a mezzanine, lack of floor space or narrow stair well, so many situations that can be complex to attain access. If you go to a L'Echelle Européenne store, you can get advice from our experts and range dedicated to small spaces. Space-saving staircase, stairway or ladder and access hatch, all are designed to allow you to go upstairs occupying a minimum of space.
- The ceiling access hatch is generally intended for passing up boxes, crates or bags to be stored or kept in the attic. They are equipped with retractable steel ladders, aluminum or wood that can be folded over itself and hence disappear once the hatch is closed.
- The Mill steps or ladders (''meunier'') are permanently installed. Traditionally made ??of wood, very steep, they are rather recommended for casual access. The narrow steps require careful descent. Light and easy to install. Can be fitted in very tight spaces and corners rarely usable.
- Stairs with staggered steps are available and gives several advantages. More comfortable, they are not bulky. Regular practice of this type of stairs quickly limits the risk of missing your step and safety is ensured with a handrail all down one side. There are 3 kinds: Spiral (12 wooden steps on a ½ circle with a supporting structure and a lacquered steel railing), Traditional (two lateral beams as wooden stairs and hand rail), and finally Central stringer, modular metal (wooden steps) and these stairs can follow slight curves.