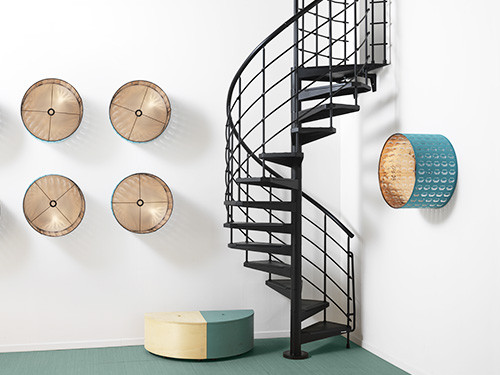 Spiral stairs
Spiral staircases, are also called snails or helical.  They can be integrated into round or square stairwells, indoor and outdoor split level rooms, they are recommended in modern houses or if required to optimize on space. Our stores network L'Echelle Européenne offers the largest selection in the stairs market. For professional or private individuals, in kit, standard or custom, the spiral staircase integrates all situations. Almost self-supporting, it requires no special surrounding structures. With the help of our experts and their technical skills, high study levels they will ideally serve to optimize points of entry and exit, while respecting the direction of circulation.
Multiple customisation options allow you to choose between traditional, modern and design. Materials treated with care offer a different look every time. Wood, PVC, iron, stainless steel and glass blend to infinity to form the mast, steps, risers, ramps and railings. Handrails, smooth, banisters and columns guarantee safety in a vertical stiffness and a horizontal lightness. Fluidity and harmony of the spiral staircase with a round base compared to the gain of space of the square base, judiciously positioned in the corner of the room.
For your spiral staircase project, we make sure that the final result meets your expectations. Our expert will offer you the best price through a clear and detailed quotation, taking precise measurements, producing top quality workmanship and making sure of an excellent  installation & follow up.